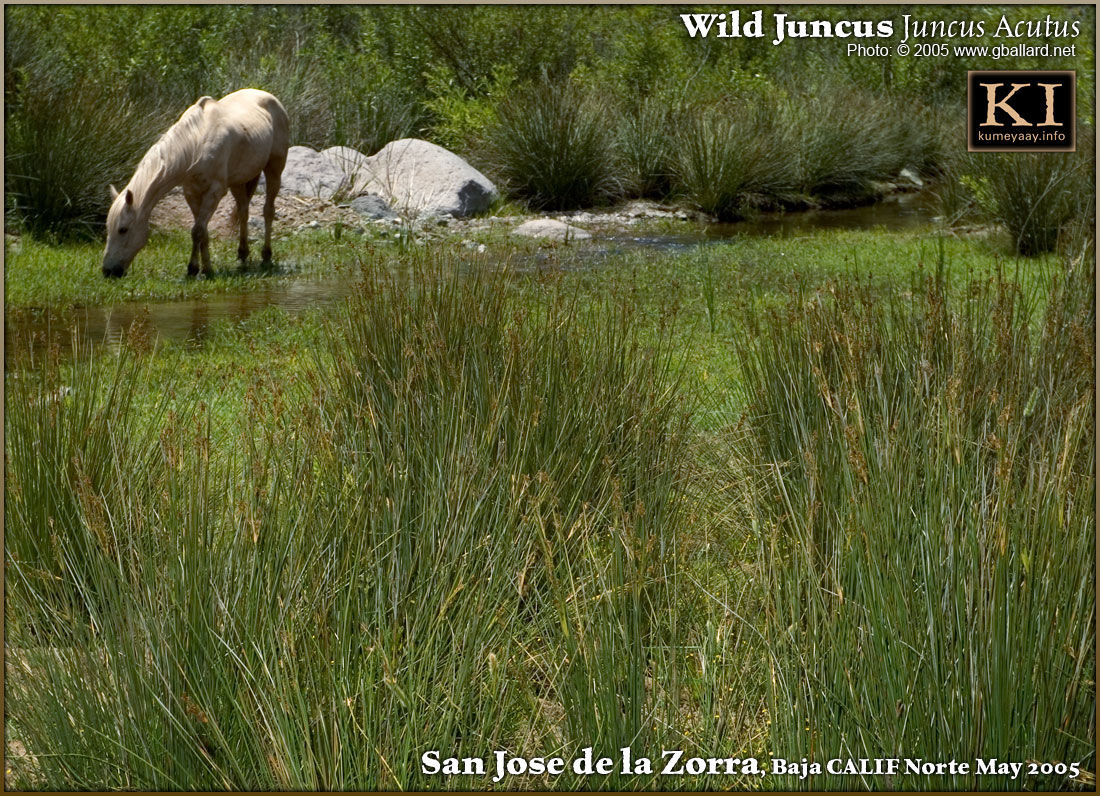 Hold mouse over large green juncus photo to rollover second picture (allow time to load both hi-rez juncus photos).
WILD JUNCUS acutus / textilis
Common names: Juncus Basket Rush / Spiny Rush
Scientific name: Juncus acutus
Kumeyaay name: Kwa' naay (kw' ni)
Juncus Basket: Aurelia Ojeda Melendrez, Kumiai Indio
Wild juncus, aka spiny rush, is a sharp reed grass that typically grows on the banks and edges of ponds and streams. Basket juncus is indigenous to Southern California and northern Mexico, and the native juncus plants have been gathered by aboriginal California Indians in the southwest USA and weaved into juncus baskets and jewelry for thousands of years.
In this juncus picture, taken near the San Jose de La Zorra Indian reservation in Baja California, Mexico, wild juncus is growing on both sides of a natural stream as a large white Indian horse eats and drinks in the wetlands of an Indian stream. Juncus, basket rush, has small brown flowers on its tops during the spring and summer and its base is naturally a rusty reddish color that is coveted and used by basket makers to weave design motifs in traditional juncus baskets.
The tall grass-like juncus plants in the foreground and all along the river edge are growing wild and its split juncus reeds have been used by Native American California Indians, including the Kumeyaay Indians, for weaving their traditional juncus coiled baskets.
JUNCUS INDIAN BASKET


Note: To view the second juncus photo, hold your mouse curser over the top juncus picture to rollover another high-resolution juncus image.
NATIVE AMERICAN CALIFORNIA INDIANS, like the traditional Kumeyaay tribal basket makers, have for thousands of years, picked green juncus reeds, dried them brown and split them, and hand weaved the split juncus into baskets. In this unique rattlesnake basket design, the split juncus was dyed black and weaved into a snake motif and the red juncus was taken near the root, split and used for a design pattern in the finished basket. Indian lore (or "Mission Indian" marketing) has associated the rattle-snake design as a warning to mice who would eat off the food baskets and risk being eaten by the snake.
SPLITTING JUNCUS


Famous Native American basketweaver sisters Teresa and Manuela Aguiar, Kumiai-PaiPai Indians from Santa Catarina, BJ, Mexico were photographed in San Diego County splitting dried juncus reeds and tying the pieces off in individual coils so they can later used for coiled juncus basket weaving in Southern Calif.
MORE INFORMATION ABOUT JUNCUS BASKETWEAVING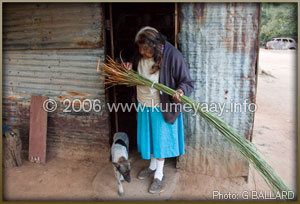 Kumeyaay Indian basketweaver SELIA SILVA photographed inspecting freshly-gathered juncus bundle is featured in the SAN JOSE de la ZORRA Native American lifestyle documentary about traditional Native American Kumeyaay Indian juncus basket-weaving communities of Baja California, Mexico.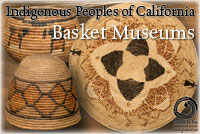 CALIFORNIA INDIAN BASKET MUSEUMS juncus basketry, basket makers, basket weaving photos pictures. Large antique artifacts relics and contemporary California Indian basket so-called mission baskets sections featuring private historical basket collections and famous Indigenous Southern California basket artists of San Diego and northern Baja California, Mexico, including Indigenous tribal lifestyle documentaries and information about how to buy and sell fine Native American California basketry.
Photos, Writing and Web Page Design Contributed by webmaster, GARY G BALLARD, San Diego.