WILD MOUNTAIN LION KILLED
WILD MOUNTAIN LIONS are plentiful in the high desert mountain backcountry of Santa Catarina, Baja California, Mexico, and the big cats occasionally become a problem for local ranchers and residents of these rural Indian communities.
Pictured above, RAUL SANDOVAL, Kumeyaay Paipai Native American Indian hunter, holds a freshly killed adult California mountain lion up to take a picture. Raul's uncle, Selso Aguiar, stands behind the big cat, but his part in the hunt, if any, was unknown as of press time.
The California lion (Felis concolor), is also called catamount, mountain cat, panther, puma, cougar.
This particular mountain lion had been killing and eating Raul's livestock and Raul hunted it, tracked it down and killed it on his rural Mexico rancho.
Raul said he tracked the lion to it's territory, tied a live goat for bait, and sat through the night until the lion came to eat it. Raul then turned on an old car headlight he had rigged to a car battery, shined it into the big cat's eyes, and shot it point blank in the face with a cheap .25 caliber semi-automatic handgun — a Saturday night special that could have easily jammed or misfired — now that's bold!
Raul, his family, and friends cooked and ate the animal shortly after the picture was taken.
Raul said he has killed several problem mountain lions in this manner over the years.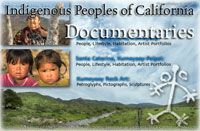 THIS PHOTO is part of an DOCUMENTARY on the Santa Catarina Indigenous people, Indian documentary series features the Kumeyaay traditional coiled basketry of the SAN JOSE DE LA ZORRA Kumeyaay Indian village, Baja California, Mexico. Also, the Kumeyaay-Paipai traditional clay pottery and basketweavers of SANTA CATARINA Indigenous community, Baja California, Mexico. And the Kumiai Indians of SAN ANTONIO NECUA. KUMEYAAY.INFO showcases the professional photography and journalistic documentation of village inhabitants Indigenous lifestyles, environmental portraits, habitations and pictures of their traditional California Native American arts and crafts. Los indios indígenas de las fotos documentales de la forma de vida del photojournalism de México representan películas.
Los LEONES de MONTAÑA SALVAJES son abundantes en la montaña alta backcountry de Santa Catarina, Baja California, México del desierto, y los gatos grandes sienten bien de vez en cuando a un problema para los rancheros locales y a residentes de estas comunidades indias rurales.
Representado arriba, RAUL SANDOVAL, cazador indio americano nativo de Kumeyaay Paipai, asimientos una toma recientemente hasta matada del león de montaña de California del adulto un cuadro. Tío de Raul, Selso Aguiar, está parado detrás del gato grande, pero su parte en la caza, si la hay, era desconocida en fecha tiempo de la prensa.
El león de California (concolor de Felis), también se llama catamount, gato de la montaña, pantera, puma, puma. Este león de montaña particular había sido matanza y comer el ganado y Raul de Raul lo buscó, lo siguió abajo y le mató en su rancho rural de México.
Raul dijo que él siguió el león a él es territorio, ató una cabra viva para el cebo, y se sentó con la noche hasta que el león vino comerlo. ¡Raul después dado vuelta en una vieja linterna del coche que él había aparejado a una batería de coche, brillado le en los ojos de gato grandes, y ahora tirado le espacio en blanco del punto en la cara con un handgun semiautomático del calibre barato del 25 -- una noche de sábado especial que habría podido atorar o fallar fácilmente -- que es en negrilla!
Raul, su familia, y los amigos cocinaron y comieron el animal poco después el cuadro fueron tomados.
Aguiar family historical Kumeyaay family photographs Contributed by Manuela Aguiar, Kumeyaay Pai Pai.
Digital restorations and design by Gary G. Ballard, San Diego