INDIAN ARTISTS LIFESTYLE Pictures
MANUELA AGUIAR KUMEYAAY PAIPAI Indian artist is pictured in 1994 photo sitting alongside her adobe home in Santa Catarina, Baja California, as her son, Raul Sandoval, draws one of his traditionally made Native American bows for a book author photo shoot.
Note: Raul is wearing a traditional agave buden net, agave carrying net, or hapuum with tumpline strapped across his forehead that drapes the bag and its contents down his back, like they carried stuff 'in the old days.'
Both Manuela and Raul are well known working Native American Indian artists in the Southern California, San Diego County, Baja California, Mexico, areas. Their traditional ethnographic California Indian arts and crafts may be purchased at the Shumup Ko Hup Indian store gift shop in Old Town San Diego State Historic Park, San Diego, CA.
Manuela Aguiar is featured in KUMEYAAY.INFO Indigenous Peoples of California Pottery Museum and Santa Catarina Indigenous lifestyles documentary, and Basket Museum.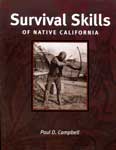 REVIEW THIS BOOK
Photo by PAUL D. CAMPBELL, author of SURVIVAL SKILLS OF NATIVE CALIFORNIA.
Paul's book is available through KUMEYAAY.INFO BOOKS and features living San Diego area Native American California Indigenous people, and details their ageless traditional hunting, weapons and aboriginal survival methods with professional photography. Both Manuela and Raul are featured in Paul's book.