ANTIQUE CLAY POTTERY Old Ollas of California Native Americans
Pre European Contact, prior to 1500s
Post Eurpoean Contact, after 1500s
KUMEYAAY.INFO is currently seeking photo access to professionally photograph document rare, old, antique, ancient pottery ollas artifacts collections for our on-line Indigenous Peoples of California Pottery Museum.
KUMEYAAY.INFO hopes to build large, captioned photographic collections archives of rare, old, antique, ancient pottery ollas artifacts guests under our educational non-profit information format.
This effort is in support of the working Native American traditional artists of California so they may revive and preserve the ageless cultural traditions of the Yuman peoples, including the Cocopah Cucapa, Kumeyaay Kumiai, Quechan, Mohave, Paipai Pai Pai, Ipai Tipai, Kiliwa, Yavapai, Havasupai, Hualapai, Maricopa, Luiseño and Cahuilla Indigenous peoples of California, Arizona and Mexico.
If you have these types of artifacts available, please Contact the WEBMASTER.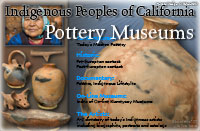 KUMEYAAY POTTERY Indigenous Peoples of California Pottery Museum features the old ancient antique ollas of the Yuman Indians. Our extensive photography documentation of Native American pottery artist include online picture catalogs of their traditional and contemporary pottery, including environmental portraits and biographies of the pottery artists.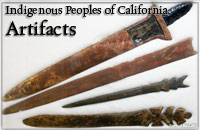 CALIFORNIA INDIAN ARTIFACTS of the deserts mountains rivers coastal Kumiai, Cahuilla, Cupeño Cupeno, Gabrielino, Juaneño Juaneno, Luiseño Luiseno Native American tribes of Southern California and northern Mexico. Authentic ancient old antique Indian arrowheads, baskets, pots, paviut wands staffs, rabbit sticks.


NATIVE AMERICAN Indigenous artists fine art cultural posters for sale the webmaster produced a series of 48-inch fine art posters of his photojournalistic documentary series on the California tribal peoples of North America.