KUMEYAAY MUSEUM
The Smithsonian National Museum of the American Indian "Our Lives" exhibition Kumeyaay museum display features the Campo Band of Kumeyaay Indians, Kumeyaay Nation.
From the Smithsonian placard:
We gather with other Kumeyaay bands from California and Mexico to socialize, celebrate, and share traditions. Through the bonds of singing, dancing, basketmaking, and pottery making, we are coming together and bringing down the border.

- Campo Kumeyaay Curators, 2003


Campo Band of the Kumeyaay Nation official Kumeyaay Indian Nation web site: www.campo-nsn.gov
PHOTO SHOOT and digital production contributed by Hank and Shirley Murphy.
Museum Web site design by, GARY G BALLARD, San Diego, Calif.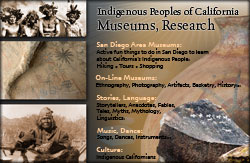 KUMEYAAY MUSEUM, please visit the KUMEYAAY.INFO Indigenous Peoples of California online American Indian museums for Kumeyaay RESEARCH, Kumeyaay HISTORY and present-day Kumeyaay LIFESTYLE documentaries of the Kumeyaay bands of northern Baja California, Mexico.


KUMEYAAY GATHERING -- Over 100 professional big high resolution pictures of a 2005 Sycuan Gathering of the featuring Yuman bird singing and Yuman bird dancing of the KUMEYAAY NATION, including top professional pow-wow dancers and pow-wow singers from across the USA, Canada, northern Baja California, Mexico, the Diegueno Diegueño KUMEYAAY Kumiai bands, and Mohave, Quechan, Cocopah Cucapa, Cahuilla, Pai Pai Paipai, Ipai Tipai, Hualapai, Kiliwa, Havasupai, Maricopa, Yavapai, and Shoshonean Juaneño Juaneno and Luiseño Luiseno Indians of the southwestern southwest United States of America.