CAMPO BAND TRIBAL BASKET
A large magnificent example of fine Native American Indian basket art is proudly displayed for a professional picture by three of the American Indian weaver's children and one of their cousins (young boy on photo left) on their remote and impoverished Indian reservation, San Jose de la Zorra, Baja California, Mexico.
Chairman Paul "Jr." Cureo of the Campo Band of the Kumeyaay Nation purchased this stunning 22-inch Kumeyaay juncus baskest directly from the weaver in 2006 to decorate the Campo tribal office on the Campo Indian Reservation.
SAN JOSE DE LA ZORRA NATIVE BASKETRY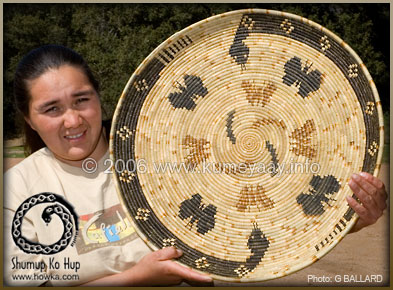 Aurelia Ojeda, Kumeyaay Native American Weaver Basket Maker Biography
Some of the finest and most beautiful Native American Indian baskets today are being traditionally handweaved by talented hardworking juncus basketweavers in the remote Native American tribal village of San Jose de La Zorra, Baja California.
Unlike the northern California Native tribes who have lost most of their Native artists and the cultural art of traditional basketweaving, San Jose de la Zorra has a group of practicing juncus weavers thanks to concerted efforts in Southern California to nurture and promote the indigenous Native American artists working south of the US-Mexican border in stay-at-home jobs with their families and living in their cultural lifestyles on their Native lands.
MOST EXPENSIVE Native American Baskets
This particular 22-inch juncus basket — with two diamondback rattlesnake patterns, and fun butterfly motifs with handcrafted Native American Indian designs — has surpassed the webmaster's criteria for masterpiece basket art.
In fact, it should be noted modern professional Native American weavers rarely make baskets for sale this large and beautiful because the time, skill and natural juncus that a weaver spends on one of these baskets make it much more difficult for sale because they are so expensive; very few collectors can afford them, and very few working professional weavers can spend this much time on one basket waiting for it to sell.
However, these expensive Native baskets also are sound tribal investments that not only look beautiful in the home, tribal office or museum, but these unique art pieces also appreciate more substantiality over time than the smaller more common Native baskets.
SIZE:
Diameter: Approximately 22 inches
Height: Approximately 3 inches
Materials: Coiled juncus, natural and black dyed juncus, split juncus foundation
Indian Basketweaver: Aurelia Ojeda, Kumeyaay, Master Basket Weaver.
Aurelia accepts commissioned orders for these unique large Native American baskets through Shumup Ko Hup Native American store and gift shop located in Old Town, San Diego.
Native American Basket photo and design by G BALLARD, San Diego