KUMEYAAY ART
KUMEYAAY basketweaver Manuela Aguiar, rural Kumeyaay Kumiai Piapai Indian village community of Santa Catarina, Baja California, Mexico, earns her living handcrafting traditional Kumeyaay basketry, Kumeyaay dolls, Kumeyaay pottery, Kumeyaay agave net bags in the timeless styles of the Native American Yuman Indian peoples - KUMEYAAY INDIAN ARTWORK.
KUMEYAAY ARTIST
Manuela Aguiar, a respected Kumeyaay elder, Kumeyaay artist, possesses a vast knowledge Californian indigenous plants and medicinal herbs used by California aboriginal peoples in North America, greater Southern California Native American healing ceremonies.
KUMEYAAY LIFESTYLE
Manuela lives a traditional KUMEYAAY LIFESTYLE and is featured in the KUMEYAAY.INFO Indigenous peoples of California photo picture documentary on the Kumeyaay Pai Pai basket weavers, pottery makers, the traditional California artists of the southern Kumeyaay Indigenous tribal lands.
Manuela and her traditional art work and Native American botanical knowledge was featured Paul D. Campbell's book, Survival Skills of Native California.
Manuela Aguiar has contributed her old Aguiar historic family pictures to KUMEYAAY.INFO for restoration.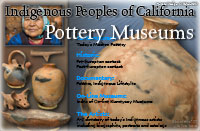 KUMEYAAY POTTERY features the modern Kumeyaay pottery art of the Yuman Indians of Southern California, Arizona, Mexico. Our extensive photography documentation of Native American pottery artists includes online picture catalogs of their traditional and contemporary clay pottery, including environmental portraits and biographies of the pottery artists. KUMEYAAY.INFO is currently building large, captioned photographic collections of rare and old antique ancient pottery artifacts for its on-line Indigenous People of California Pottery Museum.


Santa Catarina PICTURES Kumeyaay Photos Documentary, Started February 2005
Santa Catarina is a Kumeyaay-Paipai Indian community in Baja California, Mexico. This on-line photographic documentary presents Indigenous lifestyle pictures of Native American traditional pottery artists, pot makers, potters and basket weavers, basket weaving, traditional California Indian basket artists, overall documentary style of the village inhabitants, habitations and ranchos of the Indigenous Kumeyaay Pai Pai Native American Indians.
Manuela Aguiar's handcrafted traditional Kumeyaay Indian arts and crafts may be purchased from Shumup Ko Hup Indian store and gift shop located in Old Town, San Diego. Photo by G BALLARD PHOTOGRAPHY, San Diego.