The SYCUANFIRE.COM and GEHOTSHOTS.ORG Web sites were expired in 2010 — I am archiving a few of my fire academy movies here for CHIEF MURPHY and participants.

FIRE INSTITUTIONS:
SYCUAN FIRE DEPT
SYCUAN WILDLAND
SYCUAN AIR DIVISION
SYCUAN FUELS CREW

MULTIMEDIA:
FREE MOVIE THEATER
Fire PHOTOS
Fire STORIES
Fire MUSEUM

SYCUAN EMPLOYMENT:
JOBS / CAREERS

SYCUAN FIREFIGHTERS:
SYCUAN FIRE HISTORY
MISSION STATEMENT
EQUIP & APPARATUS
CONTACT SYCUAN FIRE

SAFETY-TRAINING DIV:
At a GLANCE
WILDLAND Academy
Firefighting TRAINING
Firefighter CAREERS
Fire LIFESTYLE Photos

EMERGENCY MEDICAL SERVICES EMS:
At a GLANCE

SYCUAN LIBRARY:
EDUCATION

SYCUAN CREWS:
Crew LOUNGE BLOGS
Firefighter GIFT STORE
Firefighting LINKS
Firefighter MEMORIALS

MEDIA:
Fire NEWS
PRESS KIT
SITE MENU
FIREFIGHTER TESTIMONIALS
UPDATED 2021 for Quicktime Bug
DIRECT DOWNLOAD .MP4
200MB movie, give time for start...
Plays on macOS, iOS, Android, Windows
BIA-Sycuan Wildland Fire Fighting Academy "Dirty Dozen" Academy #12 graduates, April of 2009.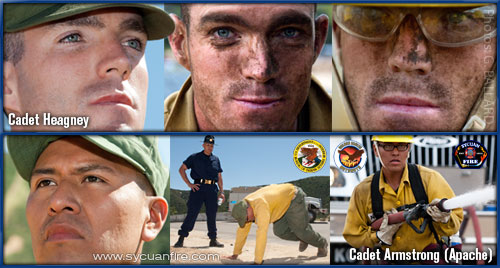 "One day I just woke up and I was like, you know, I really want to become a firefighter — I wanted to know what that is...".

-Firefighter Recruit Armstrong, White Mountain Apache Indian Reservation
RECRUIT HEAGNEY
Recruit Heagney, a 26-year-old, 6-year Marine Corps combat veteran who served in Iraq during Operation Iraqi Freedom 2005 OIF 2005 as an 0311 rifleman, threw in the towel on the Marines and joined the Sycuan fire academy to fulfill a childhood dream to become a firefighter. Heagney became the class guide, called cadence for the class and shares his experiences during video interviews.
RECRUIT ARMSTRONG
Recruit Reagan Armstrong Jr., an Apache Indian of the White Mountain Indian Reservation, joined the Sycuan program after completing a full wildland fire season and some volunteer training with his reservation fire department.


2009 Wildland Fire Avaition Academy Multimedia Photojournalism News Blogging, Professional Photography, Video Journalism...our professional fire and aviation helicopter school "boot camp" in San Diego County Southern California is successfully completed — 18 successful fire-fighting students join the federal fire service with jobs!
OTHER FIRE FIGHTER INTERVIEWS
I got some great recruit participation on my interview process, but I had so much bonus time into the project I had to wrap up production — thanks everyone who took the time to speak befor the camera.
Successful Sycuan-BIA (Bureau of Indian Affairs) Wildland Academy cadets give first-person personal journalistic interviews on video camera, including audio recordings clips, just two hours before the Sycuan wildland academy graduation ceremonies on the Sycuan Indian Reservation, San Diego County.
VIDEO INTERVIEWS ONLINE
These personal, in-their-own-words accounts about the Sycuan Fire Department's tough fire training programs include challenges, satisfactions, impressions of the Sycuan "boot camp" Marine Corps style fire academy they just completed, including valuable advice to people interested in applying for the prestigious and demanding firefighting academy for careers in fire fighting with the Sycuan Fire Department in San Diego, the Bureau of Indian Affairs BIA, California Department of Forestry CDF, and any number of fire departments across the United States.
On-location photojournalism documentary video movie production by San Diego video producer-director-editor-webmaster and DVD production GARY G. BALLARD.
This is a large 10-Minute, 30 MB, .mov file!



BROADBAND (cable/DSL) and QuickTime required to view free .mov movies.
FIRE ACADEMY MULTIMEDIA PRESENTATIONS
BOOT CAMP DOCUMENTARY DVD MOVIE THEATER MARQUEE:
MOVIES: DVD | Testimonials | Chief Murphy Speech | Rules & Regs
BOOT CAMP SCRAPBOOK STILL PICTURES
ACADEMY CAREER TRAINING INFORMATION
INFORMATION ABOUT the BIA-Sycuan Wildland Academy
ACADEMY History, Curriculum, Certifications, Mission, Purpose, Application Procedure, Requirements, Indian Preference, Contact, Selection Process, Tuition Costs.
Please CONTACT SYCUAN FIRE DEPARTMENT for more information: www.sycuanfire.com | www.gehotshots.org