KUMEYAAY INDIAN RESERVATIONS MAPS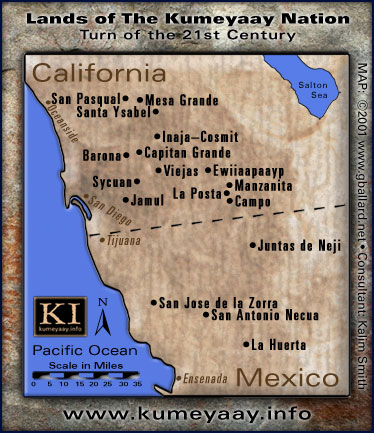 DOWNLOAD "Lands of The Kumeyaay Nation" Map Poster.
KUMEYAAY.INFO provides a high-resolution 8x9-inch printable JPEG Kumeyaay Map in its Press Kit — FOR NON-PROFIT EDUCATIONAL USE ONLY.
GARY G. BALLARD built the Kumeyaay Nation map of the California Indian homelands from scratch using Adobe® Photoshop®. Map © 2001 G. BALLARD • ALL RIGHTS RESERVED • Kumeyaay map includes the 13 federally-recognized Kumeyaay Indian reservations in Southern California, San Diego County, and the four Kumiai tribal villages ejidos rancheros rancherias rural ranchos Indigenous community ranches in northwest Baja California, Mexico.
The original high-resolution Master .psd file is over 450 megabytes.
The Master file is fully editable and will print vector sharp over 48-inches wide.
Stock Image rights available.