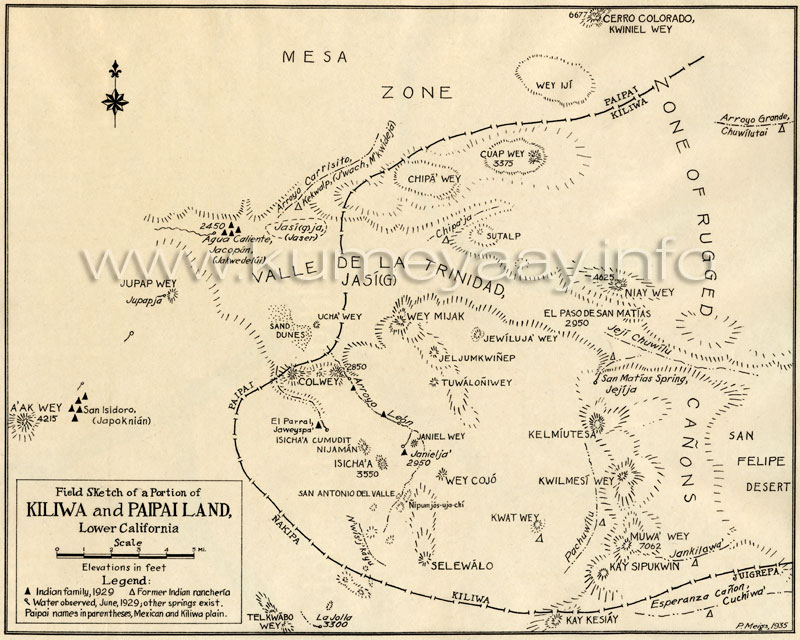 KILIWA PAIPAI TRIBAL MAPS Baja California Historical 1900s
HISTORICAL KILIWA PAIPAI old antique map unique spellings fotos of Mexico Yuman Indian tribes Mexican tribo mapa early 1900s, 1920s, including Mesa Zone, Valle de la Trinidad Jasi(G), Cerro Colorado Kwiniel Wey, Wey Ijt, Zone of Rugged Cañons, Cuap Wey, Chipa Wey, Arroyo Carrisito, Agua Caliente, Jacopin, Jupap Wey, Jupaja, Ucha Wey, Wey Mijak, Jewiluja Wey, Jel Jumkwinep, Colwey, San isidoro Japoknian, Isicha'a, San Antonio del Valle, Nakipa, Wey Cojo, Tuwaloniwey, Jeljumkwinep, Jewiluja Wey, El Paso de San Matias, Jeji Chuwilu, San Martias Spring Jejija, San Felepe Desert, Selewalo, Kay Kesiay, Muwa Wey, Jankilawa, Kay Sipukwin, Juigrepa, Esperanza Cañyon Cuchiwa.
Map details Baja California US-Mexico border area south into northern Mexico 1910s 1020s 1930s, Native American Indian tribal lands boundaries, Kiliwa Pai Pai Native American Indian tribes of Baja California, Mexico, and San Diego County Southern California.
This historical map graphic is being used by the KUMEYAAY.INFO website in its KUMEYAAY MAPS and KUMEYAAY HISTORY online features.
Library of online Historical Southern California Mexico Tribal Maps of the Kumeyaay Nation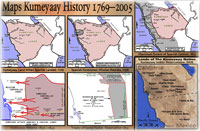 MAPS of KUMEYAAY HISTORY 1769 - 2005 highlight Kumeyaay points of history, the arrival of the Spanish, the Spanish expansion into Kumeyaay Indigenous territory, the Kumeyaay wars with the Spanish and Mexican invaders to regain their Indigenous tribal lands and stop abusive aggression, the Treaty of Santa Ysabel 1852, the California Genocide and California Mission periods, including the current Kumeyaay bands of Native American Indians in Southern California and northern Mexico.