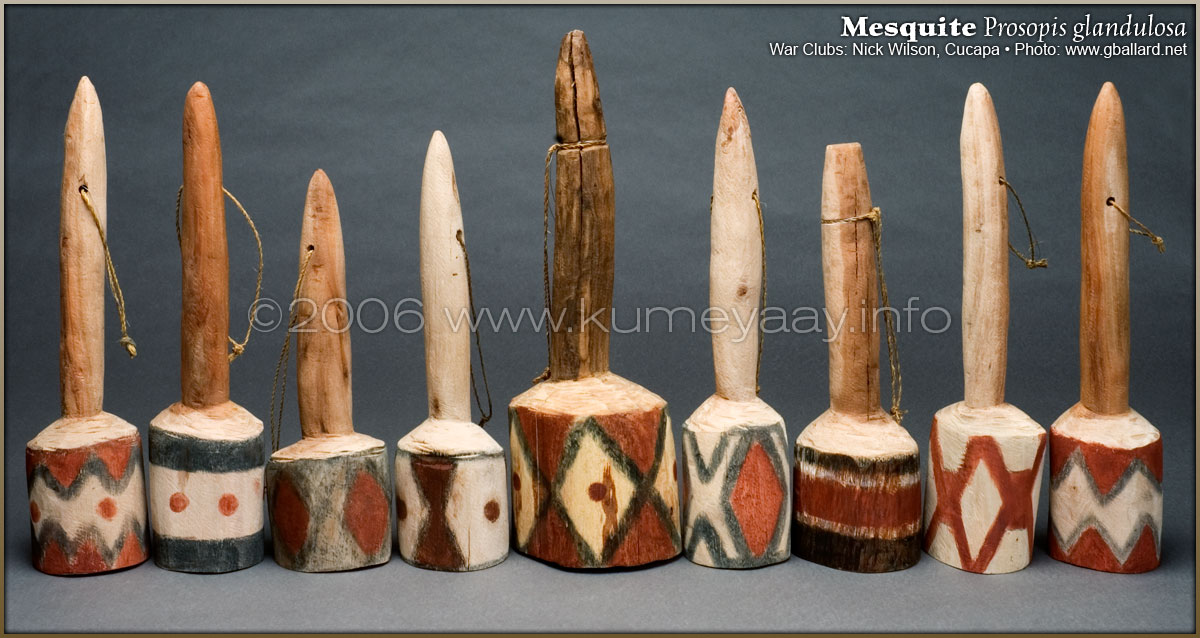 Mesquite Prosopis Glandulosa Photos
Common name: Honey Mesquite
Scientific name: Prosopis glandulosa
Mesquite War Weapons: Nick Wilson, Cucapa, Cocopah Community of Pozo de Arvisu, Sonora, Mexico
HOW TO IDENTIFY MESQUITE TREES Facts Information About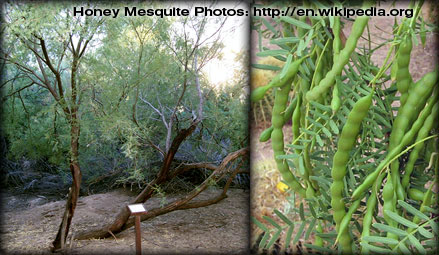 THE HONEY MESQUITE TREE is native only to southwest U.S.A. and northwest Baja California, Mexico, California indigenous plants used by Native American Indians.
The California indigenous adult tree averages around 25 feet in height, but may grow to over 50 feet tall in ideal growing conditions. Wood from this native California tree is very heavy and dense and is suitable for aboriginal primitive weaponry like Indian war clubs and tool making.
Honey Mesquite photos above show brown tree trunks and large heavy tree limbs, healthy green leaves and seed pods that resemble green peas.
ABORIGINAL WEAPONS WAR CLUBS
Cocopah aboriginal artist Nick Wilson CUCAPA made these museum grade mesquite primitive war clubs in around 2004 for sale across the US-Mexico Border.
Nick Wilson is an authority on how to make ancient Indian artifacts and cuts his own mesquite wood and collects uses the traditional red paint or red dye, cochineal (Dactylopius coccus) of the Yuman tribes in creating his authentic Native California ethnographic tribal art designs and crafts.
The cochineal dye is produced from scale insects bugs that create a natural rich maroon scarlet pigment and stores it in its body fluids and tissues that the Indigenous tribal people harvest.
The Native tribes have collected and used the red dye material for thousands of years for social status, including body painting and face painting, tribal tattoos, tribal logos and designs to mark their bodies, clothing dye, marking territory and weaponry with tribal symbols, as pictured above.
The large mesquite wooden Cocopah tribal war club in the middle is 16-inches tall and weighs over 5 pounds.
Nick handmade the agave twine cord he used on the Indian war clubs by extracting agave fiber from dried yucca agave plants and hand-rolling the indigenous fibers together to make the ancient Indian string, the same way his ancestors have made Indian ropes cordage string for thousands of years in California.