RUTA DEL VINO
The RUTA DEL VINO — or "route of the wine" — is a well marked historical tourist route that runs through San Jose de la Zorra and San Antonio Necua Kumeyaay Indian communities of Baja California, Mexico, that includes Valle de Guadalupe.
This famous wine growing region in northwest Mexico is south of Tijuana and east of Ensenada in the heart of prime Kumiai Indian tribal lands.
The historic Ruta del Vino wine route connects numerous local wineries and large grape vineyards with tourist attractions for sightseeing, shopping, restaurants for fine dining, resorts and hotels for over-night stays.
For centuries, grapevines (and olive trees) have been growing in the Mexican valleys of northern Mexico — the climate and soil of the region are perfect for these crops and they have earned an international reputation for producing the finest grapes in the world for wine making.
Much of the local grape harvest in Mexico is used in local Baja California wineries to produce premium fine Mexican wine for sale around the world.
After researching "Ruta del Vino" on the internet, the webmaster was unable to find any official information on Ruta del Vino, or anything comprehensive about Ruta del Vino in Baja California north west Mexico south of the US Mexico border to link to the more than 22 modern Mexican wineries in this old wine-growing region of Baja Calif norte.
RUTA DEL VINO, Baja CA, appears to be designed to map a safe tourist route in Mexico south of Tijuana and east of Ensenada to learn about the Baja wineries, the wine breweries grape growers vineyards of extreme northwestern Mexico, including fabulous wine tasting tours, free wine at local vineyards and safe modern hotels and lodging with old-world Mexican hospitality.
But it is also good sense to check with authorities for a TRAVEL ADVISORY IN MEXICO and safety recommendations TRAVEL WARNINGS IN MEXICO before traveling in Mexico if unfamiliar with the local area, local languages and local customs.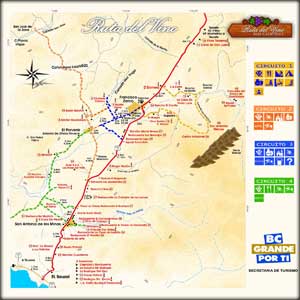 TOURIST MAPA DE LA RUTA DEL VINO
SAN DIEGO MAGAZINE feature May 2006 Ruta del Vino:
A great feature article, "Mexico's Wine Country" (excerpt):


"IT WAS DURING a reconnaissance mission for alternatives to the Tijuana border crossing that I discovered the Valle de Guadalupe, northern Baja's wine country. A scenic, 90-minute drive south of the U.S. border, the Ruta del Vino (Mexican Route 3) runs northeast to Tecate from El Sauzal, an industrial suburb near Ensenada.

The turnoff from coastal Route 1 is easy to spot — look for the flock of eternally hungry seagulls circling the fish processing plants. Not too pretty. But within moments you'll be winding through the purple-tinted foothills leading to the valley...".

- by Ramona D'Viola www.sandiegomag.com
San Jose de la Zorra Kumeyaay Indigenous Community online documentary, basket makers photos pictures of Kumeyaay basket weavers, basket weaving, overall documentary style photo documentation of the tribal village inhabitants, habitations.
Photos, Writing and Web Page Design Contributed by webmaster, GARY G BALLARD, San Diego.