KUMEYAAY INDIAN WEAVERS Photos
Kumeyaay California Indian basket weavers have always been known and respected for their fine Native American coiled juncus basket art. The southern Kumiai Indian weavers of San Jose de la Zorra, Baja California, Mexico, are keeping this cultural tradition alive.
Maria de los Angeles Carrillo, pictured, is a well known southern Kumeyaay weaver who illustrates the fine Native American Indian basketry art of the Indigenous Kumeyaay peoples of California.
Pictured here on her San Jose de la Zorra rancho, Maria displays a large juncus coiled rattlesnake basket she just finished for a commissioned basket sale.
Because the old antique Kumeyaay baskets are too expensive for most people to buy, and most are already in museums, many people today are building their basket collections with the newer Kumeyaay baskets.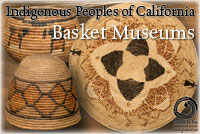 KUMEYAAY INDIAN BASKET MUSEUMS
Kumeyaay Indian weavers, basket makers, basket weaving photos pictures. Large antique and contemporary California Indian basket sections featuring professional photography of private and museum historical basket collections of the Indigenous Southern California basket artists of San Diego County and northern Baja California, Mexico, including Indigenous lifestyle documentaries and information to buy and sell fine Native American California basketry.
San Jose de la Zorra Kumeyaay Indian community on-line photojournalism documentary, Kumeyaay photos pictures of Kumiai basket weavers, basketweaving, overall documentary style photography of village inhabitants, habitations.
Photos, Writing and Web Page Design Contributed by webmaster, GARY G BALLARD, San Diego.