OLD Willow Granary Basket 1910 PALA Historical Pictures
This California Pala Band of Mission Indians historical photo of a large Native American granary was titled "Pala, 1910," Pala Indian Reservation, San Diego County.
The photographer and historical collection are yet to be identified for captioning purposes.
The willow leaves and branches used in these types of food storage baskets contain SALICIN, a natural insect repellent, which helps repel hungry insects from entering the basket and feeding on the stored food, acorns, pine nuts, grains, aboriginal food items.
This natural property "salicin" is why the California Indigenous peoples used willow in their natural food granaries and ancient Indian houses.
The Kumeyaay and Luiseño California Indians would fill these willow granary baskets with seeds and acorns to store their food in, sometimes leaving the granary baskets behind as they traveled their lands between seasonal rounds to use when they returned to the area (and their food stores would not be infested with bugs).
Miniature willow granaries and baskets are more common in today's Mission Indians basketry collections and Native American Indian stores, California Indian and Kumeyaay basket gift shops and museums, but authentic larger willow baskets may still be commissioned by today's working Kumeyaay basket weavers.
Indigenous California Indians Baskets photo contributed by Shumup Ko Hup Indian store. Shumup Ko Hup also has a variety of small, medium and large tradition willow baskets for sale in San Diego and worldwide off their website.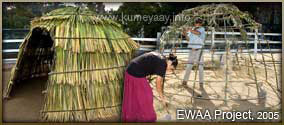 DIEGUENO-LUISENO Kumeyaay-style 'ewaa ancient house or kicha Indian shelter of aboriginal Southern California Indians photos and DVD movie documentary from planning to completion, professionally photographed and video to cultural movie DVD project, written and produced by Shumup Ko Hup and KUMEYAAY.INFO as a special multimedia cultural project in collaboration with the Old Town San Diego State Historic Park.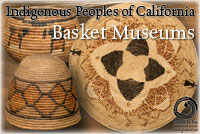 CALIFORNIA INDIAN BASKET MUSEUMS Kumeyaay basketry, basket makers, basket weaving photos pictures. Old and new California Indian baskets featuring the Indigenous California basket weavers of the San Jose de la Zorra Kumeyaay Indians of Mexico, including picture photo documentary and information to buy and sell fine Native American Indian baskets.