YERBA SANTA Eriodictyon trichocalyx
Photographed at about 5,500 feet above sea level on the Los Coyotes Indian Reservation, the smooth leaf yerba santa (Eriodictyon trichocalyx) aka (Eriodictyon californicum) medicinal indigenous California plant was used by Native American Indians for....
KUMEYAAY plant name: Sa'mall (courtesy of Richard Bugbee).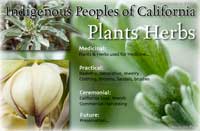 INDIGENOUS PLANTS of Southern California Ethnobotany Plant Guide and professional pictures gallery of the plants and herbs used by indigenous Native American California Indian tribes of southwestern Southern California, including northern Calif and north west Baja California, Mexico Indians. Kumeyaay Native plant guide features California white sage used in ceremony, yucca used for fiber and lotions, buckwheat used for medicinal teas, natural juncus uses for California Indian basketweaving.