TRIBAL COMPOUND
The Los Coyotes Indian Reservation is pictured looking east in this high-resolution reservation landscape photo showing the Cahuilla tribal office and small Native American church with a large mountain in the background.
The green mountain behind the tribal compound is named "Kupnil" in Cahuilla language.
Kupnil Mountain is referenced in old LosCoyotes Indian stories about their reservation. The particular story includes references to the once common California bighorn sheep that have long since been killed off or chased out of the area.
Today's jeepers, or four-wheelers, have nicknamed the mountain "Marshmallow Hill."
The pictured tribal compound above sits at about 3,500 feet above sea level in the remote San Diego mountains in the San Ysidro Valley.
Agency: Marketing Resource Group MRG www.mrgmi.com
TRIBAL CULTURE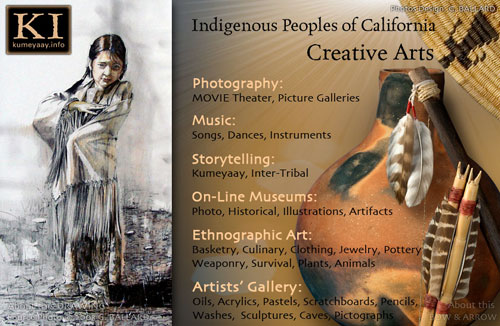 See our professional on-line museums about traditional Southern California creative arts including our original professional photography and design, music, storytelling and art directory.