INDIAN WILLOW BOW CARRIZO ARROWS
In a how to shoot an Indian bow photo, Andres Albañes draws a carrizo arrow with hardwood tip arrowhead in his finished Native California Indian black willow bow. Pictured with desert Yuman-style yucca stalk Indian quiver holding two additional carrizo arrows with hardwood pointed arrowheads. This Indian bow photograph was taken in the 1990s by Paul D. Campbell, a professional field researcher.
Andres (deceased) is Kumeyaay Indian on his father's side. His father (what's his name?) was a famous Native (bird?) singer from the near-by Kumiai village of La Huerta. His father taught Andres how to make the Indian bows. Andres' mother was Pai Pai; that's why he lived in Santa Catarina Indian village, Baja California, Mexico.
For Paul D. Campbell's complete documentation on Native American bow making, including detailed history on importantant California Indian bows arrows and arrowheads, please see his highly-recommended book: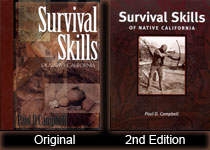 REVIEW THIS BOOK
Photos and text courtesy of Paul D. Campbell, author of SURVIVAL SKILLS OF NATIVE CALIFORNIA, where the KUMEYAAY.INFO excerpted material was originally published. Paul's book features living Native American California Indigenous people, and details their traditional weapons used for hunting and aboriginal survival methods...Paul's book is available at Shumup Ko Hup Indian store WEBSITE HOWKA.COM.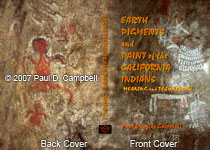 REVIEW THIS BOOK (With Buy Now Info Link to Ebay)
BUY similar Native American bows and arrows world-wide at Shumup Ko Hup Native American Indian store and gift shop of the California Indians of Southern California, northern Baja California, Mexico, and southwest Arizonia, including linked artists directory containing bow-making Indian artists biographies, photos pictures catalogs of their authentic ethnographic arts and crafts for sale.