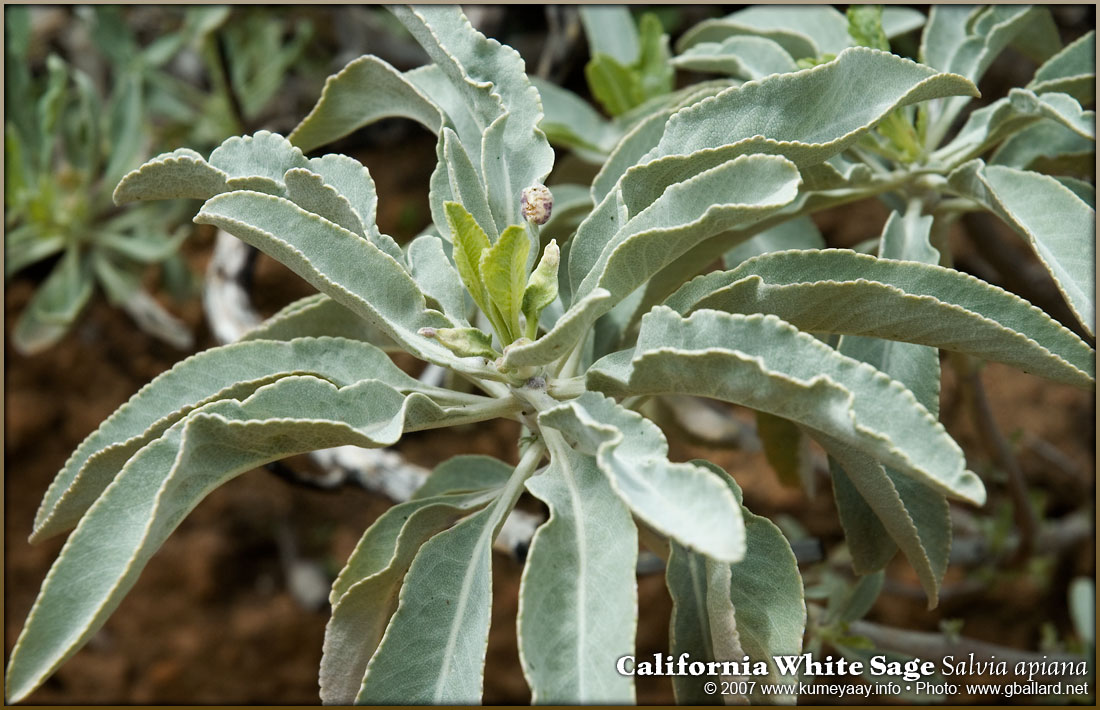 CALIFORNIA White SAGE PICTURES
This beautiful high-resolution professional photograph of a wild, natural-growing California Sage flower top -- aka ceremonial white sage, salvia, Buffalo Sage -- was photographed by Gary G. Ballard in 2007 in high desert San Diego mountains near Julian and Alpine, Calif.
The spectacular wild indigenous plant picture is cropped tight on the sage leaves and the natural low diffused lighting shows the sage plant's true white whitish, silver silverish color on its leaves that must be its namesake, what white sage was named for or what it was named after.
INFORMATION & FACTS ABOUT California White Sage
Common name: White Sage / California Sage / Buffalo Sage
Scientific name: Salvia apiana
Spanish name: Salvia
Kumeyaay name: Pellytaay / Pestaay
Canadian name: Buffalo Sage
Native area: White California sage plant is indigenous ONLY to Southern California and northwestern Baja California. White sage is grown worldwide in hothouses, greenhouses, glasshouses, and the sage sold commercially around the world.
ETHNOBOTONY
www.wikipedia.org maintains a great website for detailed information and research about white sage, including white sage ethnobotony, ecology, reproduction, morphology, and medicinal uses of the California white sage plant.