NATIVE AMERICAN Indian Face Painting
Note: These illustrations and writing are parts of Paul D. Campbell's newest book, EARTH PIGMENTS AND PAINT: MEANING AND TECHNOLOGY. This fully-researched book includes all facets of Native California pigments and paint, including physical, social, spiritual — in great detail — and reveals how the Indians turned yellow pigment red, and they made blue from white gypsum and black charcoal, and it gives many other recipes for Indian paint. The book also discusses the origin of CAVE ART in California, and the latest atomic accelerator testing of the ancient pigments used by the California Indians.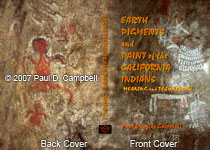 REVIEW THIS BOOK (With Buy Now Info Link to Amazon.com)
WORD-FOR-WORD EXCERPT from Paul's new book:
Cocopa face painting include patterns for fiestas or funerals, in red or blue. Patterns for young men or for relatives of a deceased in the cremation ceremony. These Cocopa face painting drawings are based on recent schematic sketches by a middle-aged Cocopa man. Likely, only the simpler patterns had survived into his boyhood. More complex patterns were evident when Edward Gifford visited the remote Cocopa in the early 1930s when everyone still painted their face.
For a fiesta, a man might paint his face red with a black X on each cheek, a -pattern known as humal auyurl. Gifford saw a variation of humal auyurl on the face of a nine or ten year old girl: within a large X, painted in brownish red on each cheek, were four Vs whose sides paralleled the sides of the X and opened outward (see cheeks of earliest documented Mohave clay figurine and early photograph of a Mohave woman).
Another daily variation, seen on a man, had two black vertical stripes dropping down from each eye and from each corner of the mouth over a face painted entirely red.
Gifford saw a girl of 16 painted in bluish black whose elaborate pattern included two vertical lines dropping down from each eye with a parallel row of four dots between each set of lines.
Another young woman had three concentric rings of brown dots near each corner of the mouth.
Patterns could be more than decorative. Black around the eyes and from each eye two red stripes descending over the cheeks was a facial design for a girl of much sexual experience. Style for a girl who had not had sexual intercourse was a red line on each cheek from the eye downward.
Also, please see Paul Campbell's earlier book, now in its second edition: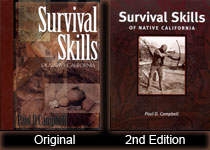 REVIEW THIS BOOK
BUY THIS BOOK NOW on amazon.com Photos and text courtesy of Paul D. Campbell, author of SURVIVAL SKILLS OF NATIVE CALIFORNIA, where the KUMEYAAY.INFO excerpted material was originally published. Paul's book features living (and deceased) Native American California Indigenous people of the greater San Diego area, and details their traditional hunting, weapons and aboriginal survival methods...Paul's book is available for sale at Shumup Ko Hup Indian store WEBSITE HOWKA.COM.